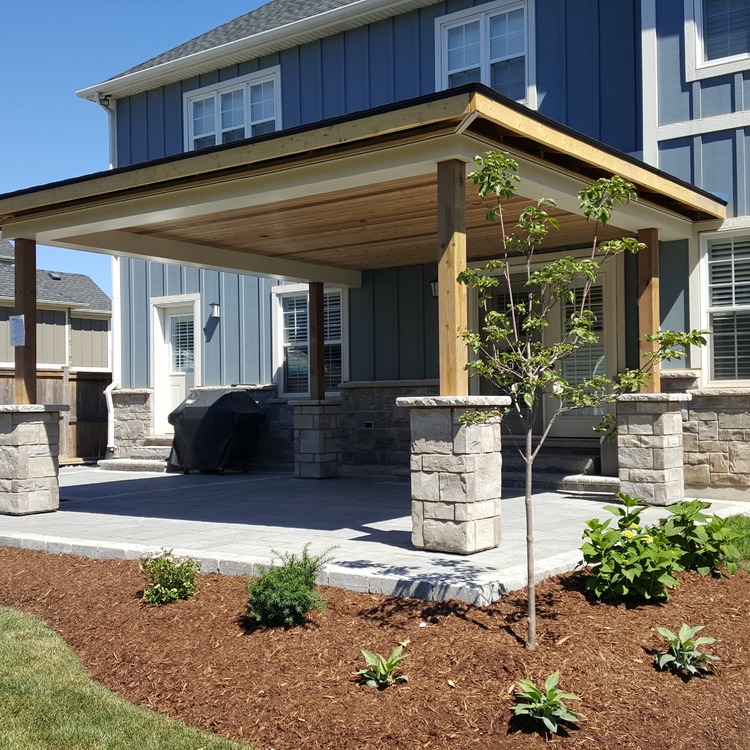 This beautiful outdoor room was added to the backyard of an existing house in town of St. Davids, Niagara Region. Our client had a wish list of a great backyard entertaining area that will provide some much-needed sun relief for their little ones during the hot summer days.
We had an architect work with our designer to come up with a plan that would incorporate a nice patio space with a beautiful outdoor room structure that blends in seamlessly with the existing architecture of the home.
The backyard posed a few issues. There was a large drop in elevation to the back and an existing wood deck and patio stone area that needed to be removed. We excavated and installed our base material for the patio area. After that, helical piles were installed to be the footings for the soon to be structure. We then began installing all patio areas, walls, and steps using complementary paving products that fit with the house. Once the patio, walls and steps were complete, the construction of the 'room' began. This allowed for minimal disruption to the other trades working on the site as well as our clients.
We are very lucky to have a long list of skilled trades whom we work closely with on certain projects throughout the year and who have the high attention to detail that we do. It makes projects like this come together creating a perfect experience for our clients, and an amazing high end finished product.
Products used in the paving part of this project were Unilock EnduraColour Beacon Hill paver for the patio (Granite colour), with a Unilock Brussels block border and wall to match (Limestone). The steps were constructed out of the same Brussels wall stone and capped with a Brussels fullnose paver. Wiarton natural stone steps were installed on top of the platforms.