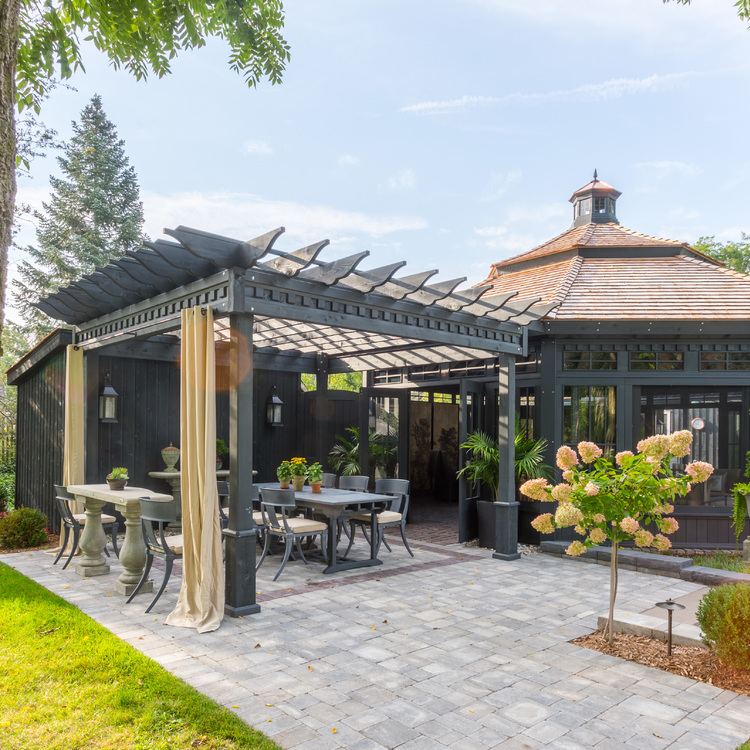 Every now and then we get approached by another contractor asking us to collaborate on a Design/ Build project. This Grande Gazebo and Pergola project was completed in 2017 alongside Limestone Trail, a custom outdoor room/pergola/ shed building company. They had talked to the client and had the building(s) and layout figured out but needed us to provide the groundwork to make it all come together.
There were many challenging areas to this project, from the access in the back of the property, the elevation of the terrain where the structure was going, and trying to make it all look seamless with the existing landscapes that were already in place in other areas of the property.
We had to install large concrete footings for the main building, concrete floors for the shed structures, and footings for the pergolas. Once that was all complete, we had to install quite a bit of drainage to divert water flow on the property away from this area, weeping tiles and clear stone were used to achieve this. The walls, steps and patios could now be installed using a variety of paver textures, sizes and colours to create the finished look. After the installation of the gazebo, pergolas, and sheds, we returned to install iron fencing, plant material and sod to finalize the project.
This was a fun but challenging collaboration with one of the many great affiliates we have worked with throughout the years.
Important Note: This project WON two awards at the Landscape Ontario Awards of Excellence in January 2018!!
(Products used: Unilock Townhall Pavers (Gazebo floor and detail banding) Unilock Brussels block limestone (under pergolas and around pool), Oakville Stone Natural Stone Steps, Oaks Retaining wall and Coping, Nuvo Iron fencing, Limestone Trail Gazebo, Pergolas and Sheds)