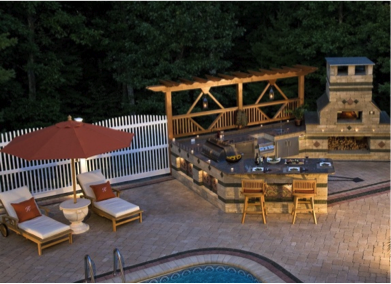 Do you love entertaining in the summer as much as I do? The Obvious answer is YES, every summer, we, Canadians, bask in the sun and have BBQ's every weekend, and even after work all week long. The summer BBQ to us is as common as those pesky mosquitos that often visit during them.
Now, imagine having an outdoor kitchen in your own backyard that will allow you to mamimize your enjoyment while entertaining family and friends. Let Tree Amigos Landscaping design the perfect outdoor entertaining space for you including Built-in barbeques, tables and chairs, overhead structures, and even fridges and sinks that can make any prep work a breeze and easily accessible. No more running back through the house twenty times for that forgotten macaroni salad.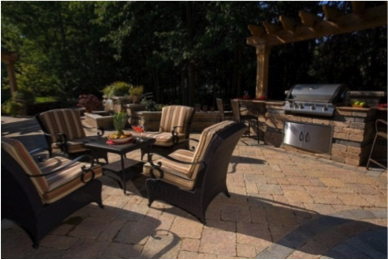 Your choices are endless! Make sure you work with our design team to get a customized backyard oasis that will not only serve as the backdrop for many special occasions, but will make your entertaining almost worry free knowing everything has been thought of to suit your needs.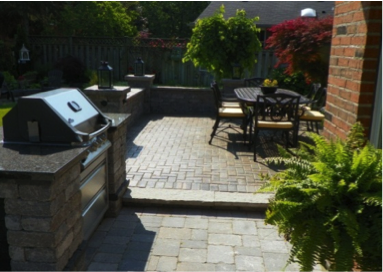 Now I know the phrase Outdoor Kitchen may sound daunting and expensive. It can be, but when planned properly, the reward is far too great to pass on. When done correctly your initial investments can easily more than double in value.

For more ideas about Outdoor Kitchens please contact
Tom Taylor, Owner / Construction Coordinator
Tree Amigos Landscaping Inc.
tom@treeamigoslandscaping.com
Some Food for Thought!

Here is one of my favorite EASY Entertaining recipes I would like you to try. It is really simple and takes no time at all, and your guests will love it! I suggest going to Lakeland Meats at 1226 St. Paul West in St. Catharines or visit their website at www.lakelandmeats.com to get the best chicken around.

BBQ Maple Soy Chicken Thighs
This makes 4-6 Servings
2 Lbs Skinless Boneless Chicken Thighs
1/4 cup of real maple syrup
1/4 cup of soy sauce
3-4 cloves of minced garlic
½ cup extra virgin olive oil
1/4 cup of Dijon mustard
1/4 tsp of black pepper
In a small bowl mix together maple syrup, soy sauce, minced garlic, olive oil, dijon mustard and pepper.
Place chicken thighs in large freezer bag and pour marinade over chicken. Seal bag tightly, and massage the marinade over the chicken. Leave to marinate in refrigerator for 12-24 hours.
Heat the BBQ to med-high heat, and place chicken on grill. Grill chicken until juices run clear when checked.
Serve with fresh summer salad.
EXTRA TIP: For easy entertaining, make double batches of this recipe and freeze it. Just take it out of the freezer and allow to thaw overnight and the chicken will marinate as it thaws!
Once grilled this meal keeps well in warm stove or warming drawer until ready to serve.