Sometimes, our team at Tree Amigos feels so much joy about a completed project, we just have to share it with you!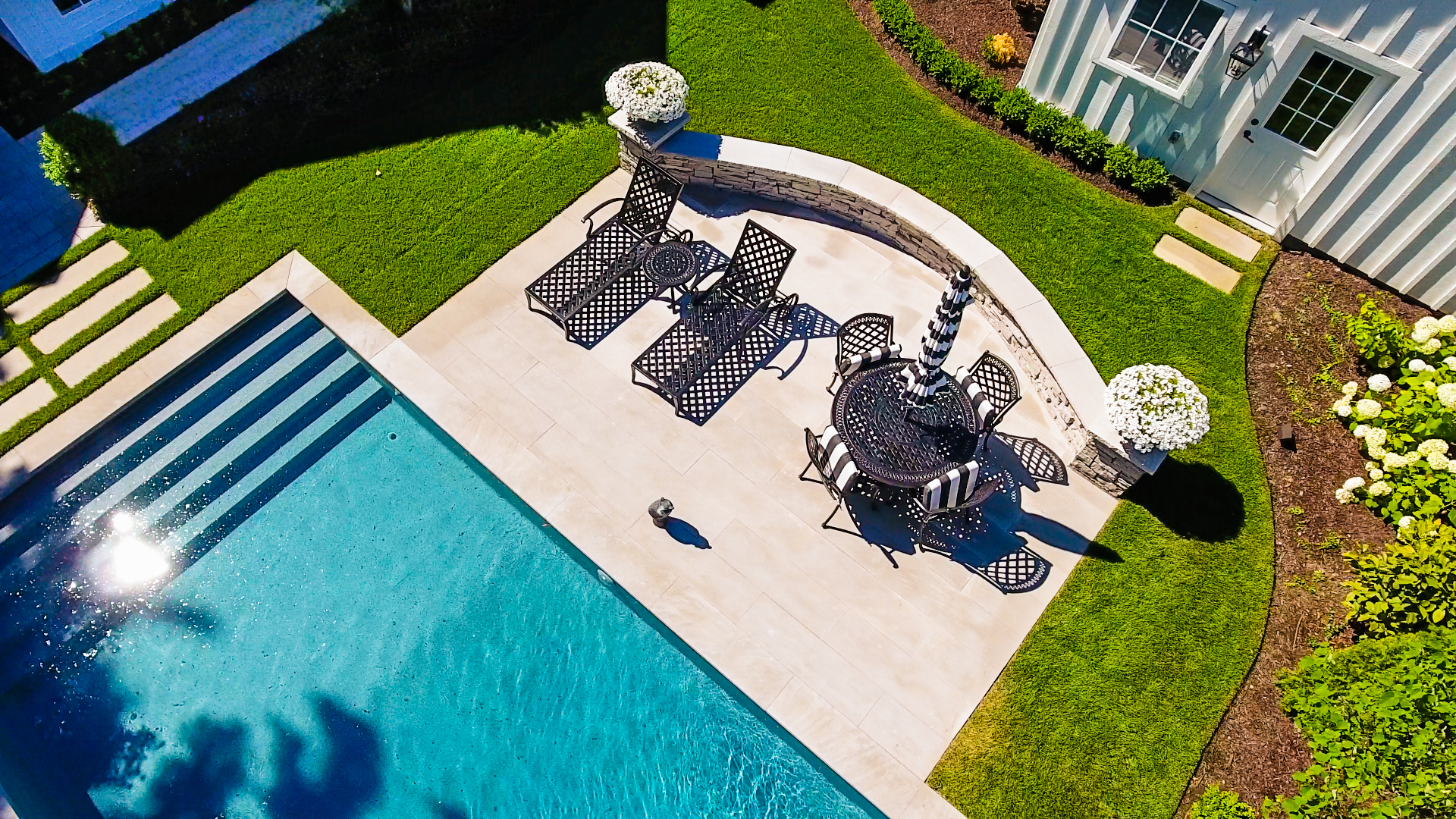 Sure, you can go to our website, or to our Facebook page, or to Houzz, and view our gallery of photos, but that doesn't give you the story behind the project.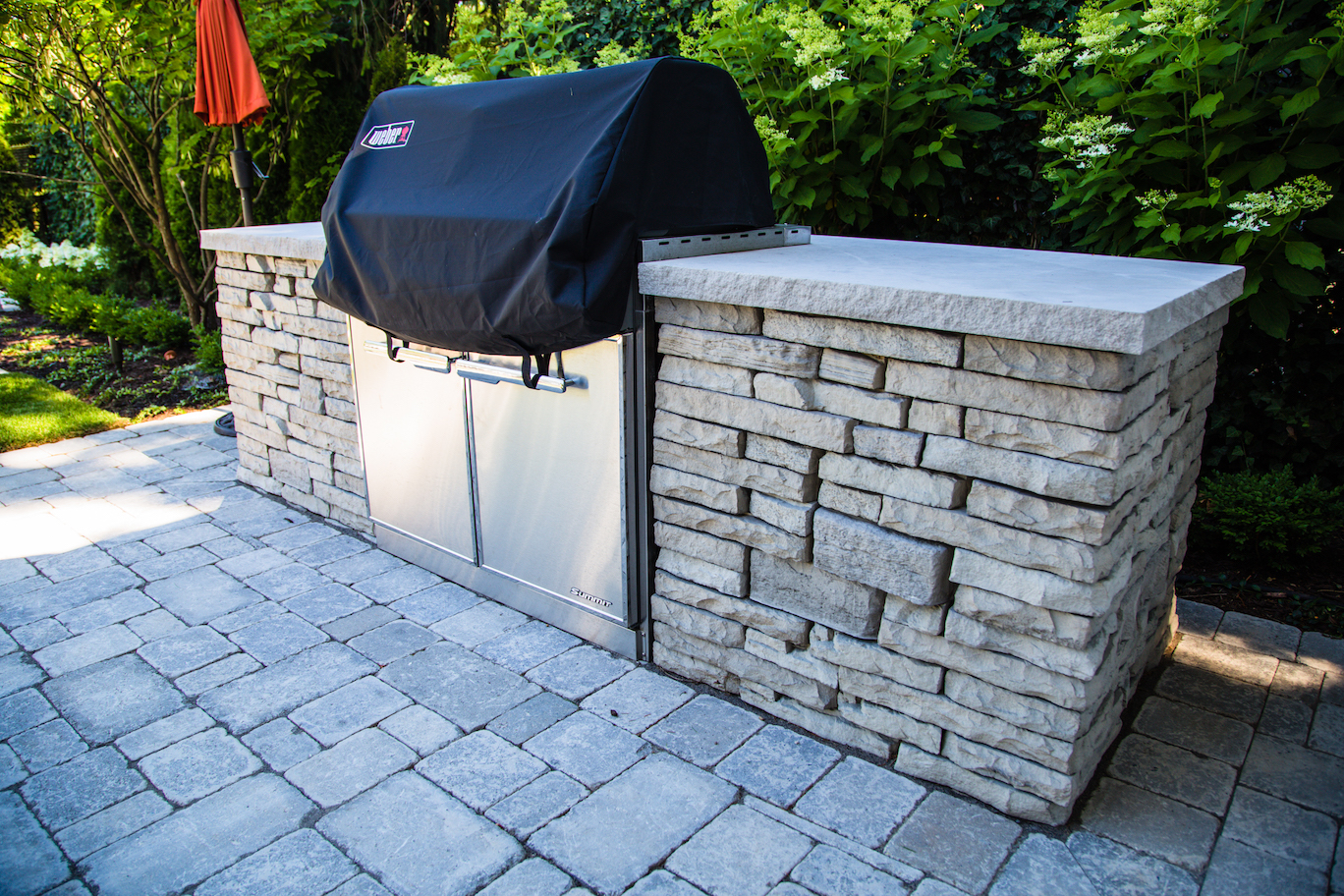 Well – do we have a story for you!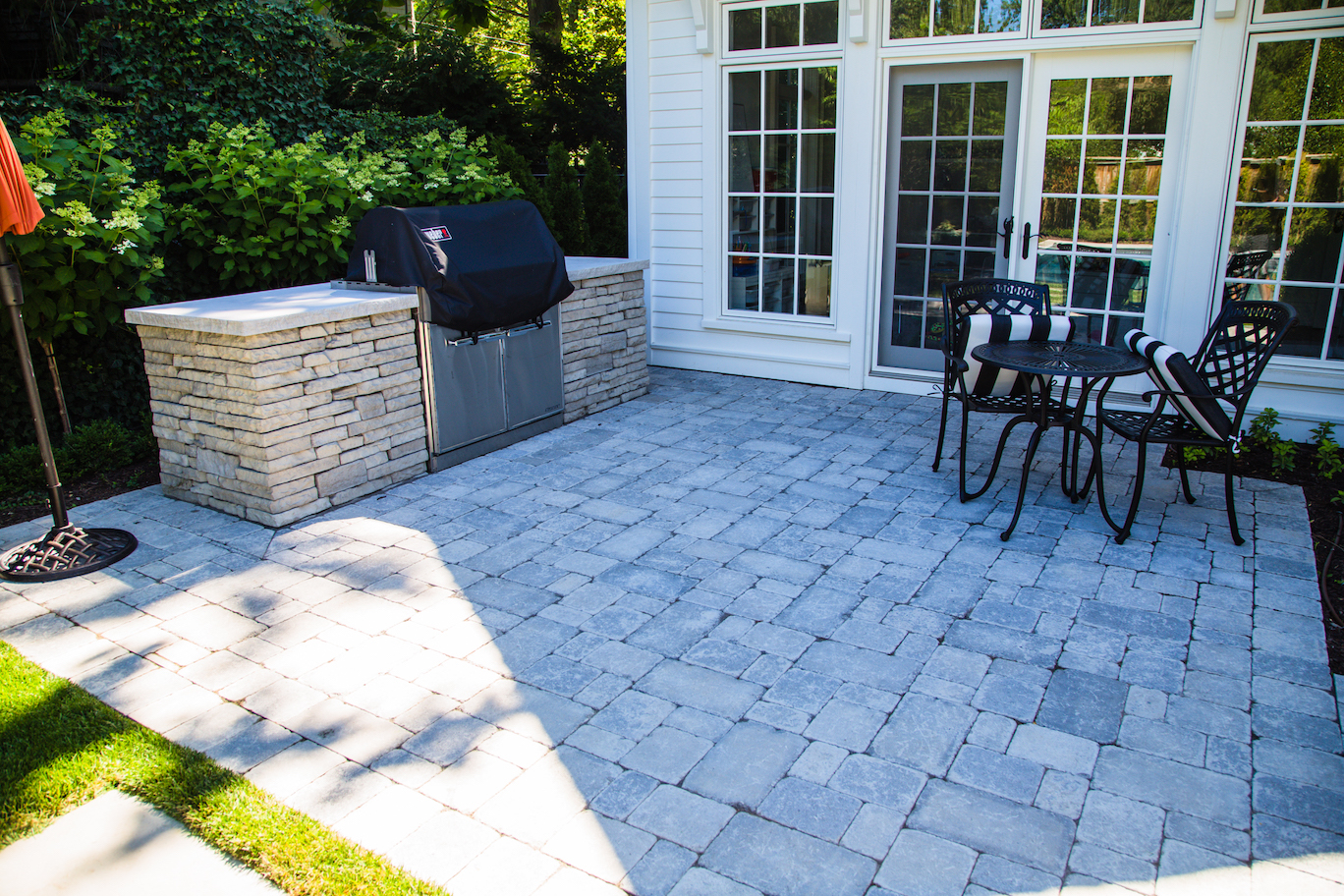 Our story began with a difficult, but exciting Tree Amigos design concept proposal.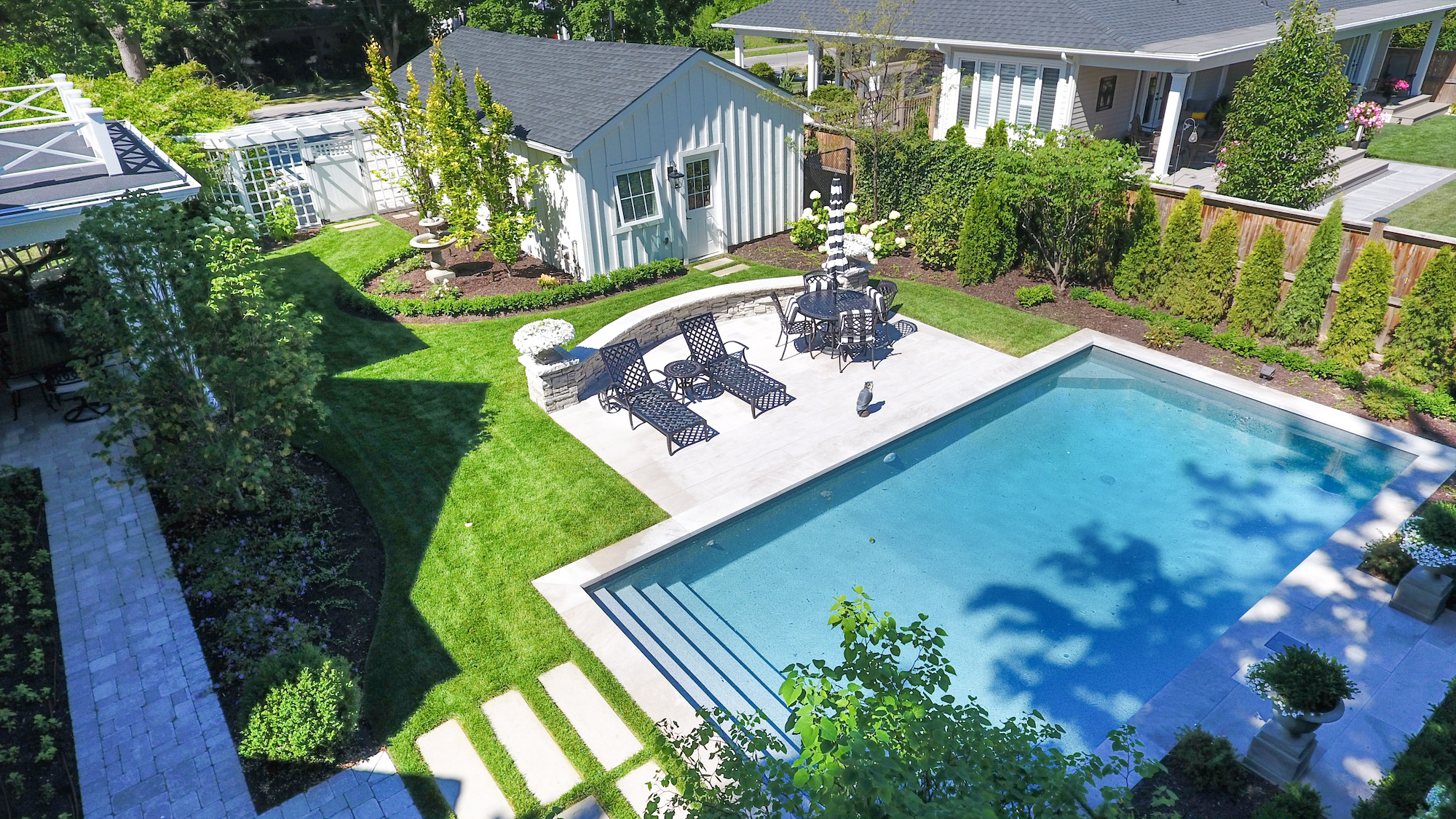 This project was multi-faceted, piggybacking on an ongoing home renovation, with a beautifully designed plan for turning the ordinary, medium-sized yard into an entertainment mecca.
Various areas of the yard would see the addition of privacy landscaping; the driveway, patios, walkways and pool would benefit from the use of different stonework, and the cherry on top of this dreamy re-do would be the landscape lighting and outdoor audio system.
First to be installed was the pool, in the fall of 2017. At that time, we installed the gorgeous Indiana limestone coping you see surrounding the pool, which is sawn on all sides to create a clean, contemporary look.
During the winter months before spring, 2018, the final design was fine-tuned; our Tree Amigos experts worked with the homeowners to choose materials, and finalize schedules and details.
The next tasks to be undertaken were the hardscaping: The laying of stone for three patio areas; the creation of a wall for seating; the building of a barbecue; the laying out of pathways and the re-laying of the driveway, which had been removed to facilitate home renovation needs.
That was early spring; we planned a return visit in early May to plant and sod the property once the weather had warmed.
Those are the basic tasks, much simplified! Our Tree Amigos team is excited about the specifics: The materials themselves are what make this renovation stand out! The combination of different types of stone give texture, colour and depth to a welcoming, classical backyard retreat.
Existing walkways in Unilock Brussels Block limestone colour determined the paver choice for this project. Indiana limestone provided a rich contrast throughout the yard in various patio areas and surrounding the pool, and in the addition of stepping stones, which add interest and function.
The curved seating wall, with pillars and a built-in barbecue grill island, were constructed from Unilock Rivercrest wall units, capped with the same Indiana limestone to continue the classical theme throughout.
The result is a contrast in darkness and light; in clean, uncomplicated styles offset by the richness of the surrounding landscaping.
There's a certain satisfaction that comes from choosing the right privacy plantings: Our Tree Amigos team supplied our homeowners with the classical lines of a mature cedar hedge, softened by the intermingling of English ivy screens.
The result is a blending of lovely greens that contrast with our building materials, presenting a dappled effect on the brand-new lawn, as sunlight moves from east to west.
Last, but certainly not least, with the help from our awesome subs, this delightful project included the addition of a programmable irrigation system with sprinklers; discreet landscape lighting to enhance evening enjoyment of this retreat, and an outdoor audio system to allow for entertainment.
No matter where you sit, stand, swim or grill in this lovely backyard space, there is richness and colour; texture and interest; function blended with fancy.
Not only did our Tree Amigos team of experts stretch our skills, working with new materials, tools and designs during this renovation – we had so much fun doing it, we're ready for another season of exciting projects just like this one!
Can we help you put together something unique?
To meet with one of our planning experts about the yard of your dreams, contact Tree Amigos at 905-937-5353. We're ready to start your concept design proposal now!
You can email questions to info@treeamigoslandscaping.com, or fill out the page to request a quote for services on our website, via http://www.treeamigoslandscaping.http://www.treeamigoslandscaping.com/contactcom/contact.
•••
Want to see more photos of recent Tree Amigos' projects? Visit the Houzz app at http://www.houzz.com/canada-interior-design and put our name in the search bar. You'll find photos of our landscaping design; stonework; water features; driveways; decks and much more.