It happens every year.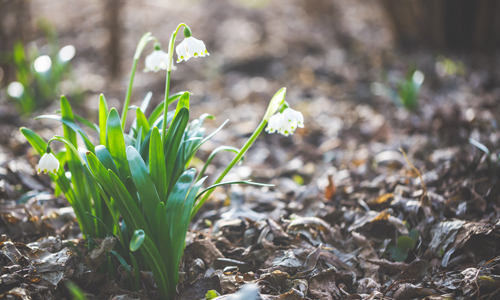 Winter begins its slow departure from Southern Ontario this month, sometimes with two steps forward, then one back … until eventually, spring weather takes hold.
Buds begin to form on the trees and spring bulbs begin their ascent toward the light; snowdrifts melt away and robins reappear, proof that spring is around the corner.
It's a time of renewal, and the garden is a perfect place to observe it.
At Tree Amigos, we have had considerable success planning spring-themed gardens for some of our clients. Our expert designers have put together some awesome combinations of spring-flowering plants, shrubs and trees, making the most of the choices available to create early-season vignettes of colour.
If a spring-themed garden is on your list of front- or back-yard renovations, it helps to know which trees, shrubs and plants will bloom in the spring, and when, and whether or not they will prosper in our garden zone.
Natural Resources Canada lists Niagara as plant hardiness zone 6b, which means there is an abundance of flowering greenery we have the pleasure to enjoy. (Click the link above to see a map of hardiness zones.)
To bring colour into the garden from early spring and make it last until summer arrives, some of the selections Tree Amigos designers favour include the following (although there are lots more):
* Winter aconite (early)
* Anemone (mid)
* Camellia (early)
* Crocus (early)
* Daffodil (early-mid)
* Dogwood (mid-late)
* Forsythia (early)
* Hellebore (early)
* Hyacinth (mid)
* Icicle pansy (mid-late)
* Iris reticulate (early-mid)
* Lilac (late)
* Lily of the Valley (late)
* Magnolia (late)
* Ornamental cherry or crabapple tree (late)
* Primrose (early-mid)
* Pussy willow (early-mid)
* Scilla (early)
* Snowdrop (early)
* Spirea (late)
* Trillium (mid, but note this is protected by Ontario law and cannot be picked)
* Tulip (mid)
* Witch hazel (early)
So, if winter weather has you down, start counting the days: It won't be long before you'll be able to see those early bloomers peeking out from underneath their blanket of snow.
Now is a perfect time to start thinking about your own spring bloom display, since spring is nearly upon us. Make sure to get out and walk your neighbourhood to see what others have growing. Getting ideas from professional gardens can be fun, too! Think about making a trip to the Niagara Parks' Floral Showhouse; to the Botanical Gardens; to your favourite garden centres and maybe even down into the Niagara Glen for a peek at what's growing in the wild.
Make a list of your favourite spring bloomers, and let the experts at Tree Amigos help you bring a garden to life! Although you won't see your yard in bloom until next year, you'll know that once those early spring flowers start showing up, winter will soon be a distant memory.
To meet with one of our planning experts about the spring bloom display of your dreams, contact Tree Amigos at 905-937-5353. We're ready to start your concept design proposal now!
You can email questions to info@treeamigoslandscaping.com, or fill out the page to request a quote for services on our website, via http://www.treeamigoslandscaping.com/contact.